Welcome to Grace Perera Elders Home Website!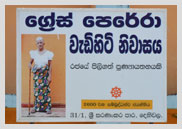 Has a long history of 50 years since establishment in 1963 and this year is its Golden Anniversary.
The initiative and initial contribution to start this worthy cause was made by Mrs. Grace Perera and the Public Trustee funds of J.Graham Bell Trust (British National).
The Grace Perera Home for Elders is accommodating 50 Women and 10 men.
Most of them have nobody to care for them and no means of living. Some are destitute as their children do not or cannot look after them due to their own pressures of living and/ or poor living conditions.
Around 90% of the expenditure incurred on caring for these elders are met by the Home through funds generated from Well-wishers, Philanthropists and those who care for them by giving generous Donations and Contributions by way of providing meals, medication and provisions needed.
As a State approved Charity Organization financial contributions are Tax Free!
The Govt. Contribution per person amounts to only around 10% of the total expense incurred on upkeep of these elders.
The Governing Body of this Home consists of eminent persons of standing,  who tirelessly work long hours not only  for the well being of all inmates but also make every attempt to generate funds required for this worthy cause through their own resources as well as contributions solicited from well wishers locally & Internationally!
---